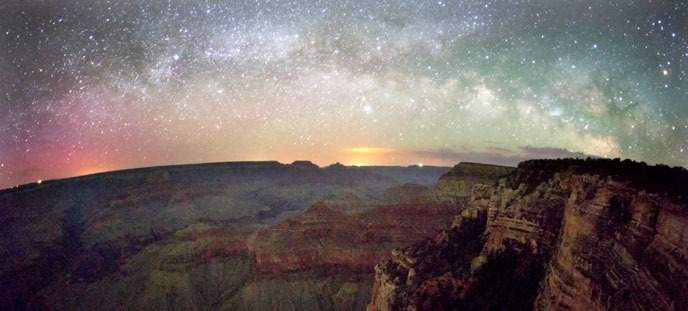 The 'Milky Way,' looking into the center of our Milky Way Galaxy, visible at the south rim of the Grand Canyon. On June 6, the Grand Canyon National Park in Arizona received the designation of "International Dark-Sky Park" from the International Dark-Sky Association (IDA). August 25 marks the centennial of America's National Park Service, the world's first designated National Parks.
More on the Grand Canyon receiving Dark-Sky status:
Link >>> https://www.nps.gov/subjects/nightskies/grcadarksky.htm
(Image Source: National Park Service)
Astronomical Calendar for 2016 August:
Link >>> http://buhlplanetarium4.tripod.com/astrocalendar/2016.html#aug
Source: Friends of the Zeiss.
2016 August 1.
2016: 75th Year of Pittsburgh's Buhl Planetarium Observatory
Link >>> http://spacewatchtower.blogspot.com/2016/01/astronomical-calendar-2016-january.html
Like This Post? - Please Share!
Want to receive
SpaceWatchtower
blog posts in your inbox ?
Send request to <
spacewatchtower@planetarium.cc
>..
gaw
Glenn A. Walsh, Project Director,
Friends of the Zeiss <
http://buhlplanetarium.tripod.com/fotz/
>
Electronic Mail - <
gawalsh@planetarium.cc
>
SpaceWatchtower Blog: <
http://spacewatchtower.blogspot.com/
>
Also see: South Hills Backyard Astronomers Blog: <
http://shbastronomers.blogspot.com/
>
Barnestormin: Writing, Essays, Pgh. News, & More: <
http://www.barnestormin.blogspot.com/
>
About the SpaceWatchtower Editor / Author: <
http://buhlplanetarium2.tripod.com/weblog/spacewatchtower/gaw/
>
SPACE & SCIENCE NEWS, ASTRONOMICAL CALENDAR:
<
http://buhlplanetarium.tripod.com/#news
>
Twitter: <
https://twitter.com/spacewatchtower
>
Facebook: <
http://www.facebook.com/pages/SpaceWatchtower/238017839577841?sk=wall
>
Author of History Web Sites on the Internet --
* Buhl Planetarium, Pittsburgh:
<
http://www.planetarium.cc
>
* Adler Planetarium, Chicago:
<
http://adlerplanetarium.tripod.com
>
* Astronomer, Educator, Optician John A. Brashear:
<
http://johnbrashear.tripod.com
>
* Andrew Carnegie & Carnegie Libraries:
<
http://www.andrewcarnegie.cc
>
* Civil War Museum of Andrew Carnegie Free Library:
<
http://garespypost.tripod.com
>
*
Duquesne Incline
cable-car railway, Pittsburgh:
<
http://inclinedplane.tripod.com
>
* Public Transit:
<
http://andrewcarnegie2.tripod.com/transit
>