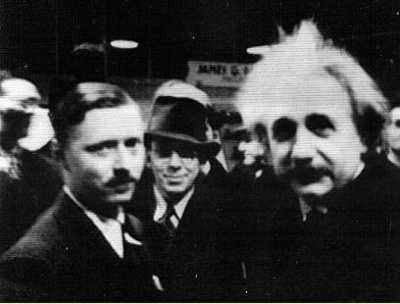 A new atmospheric laser link could help prove, more precisely than ever before, Albert Einstein's General Theory of Relativity This 1934 photograph shows Dr. Einstein (right) visiting the exhibit booth of the Amateur Astronomers Association of Pittsburgh (AAAP) at the annual conference of the American Association for the Advancement of Science in Pittsburgh. To the front-left of Dr. Einstein is Leo J. Scanlon, AAAP Co-Founder (1929), constructor of the world's first all-aluminum, astronomical observatory dome (1930), and one of the first two Buhl Planetarium lecturers (1939).
(Image Sources: AAAP, Scanlon Family Collection; Photo Reproduction: © Copyright David Smith)
By Glenn A. Walsh
Reporting for SpaceWatchtower
Scientists have developed a world record for the most stable transmission of a laser signal through the atmosphere. A research team from the International Centre for Radio Astronomy Research (ICRAR) and The University of Western Australia (UWA) reached this milestone by combining Australia's 'phase stabilisation' technology with advanced self-guiding optical terminals.
This new technology now allows laser signals to be sent, point-to-point, without any atmospheric interference. The paper introducing this new technology was issued on January 22 in the journal, Nature Communications.
Lead author Benjamin Dix-Matthews, a PhD student at ICRAR and UWA, said that this new technique basically eliminates turbulence from the atmosphere.
In a news release from ICRAR, Mr. Dix-Matthews said, "We can correct for atmospheric turbulence in 3D, that is, left-right, up-down and, critically, along the line of flight.
"It's as if the moving atmosphere has been removed and doesn't exist. It allows us to send highly-stable laser signals through the atmosphere while retaining the quality of the original signal."
Dr Sascha Schediwy, ICRAR-UWA senior researcher, highlighted new applications possible with this new technology: "If you have one of these optical terminals on the ground and another on a satellite in space, then you can start to explore fundamental physics. Everything from testing Einstein's theory of general relativity more precisely than ever before, to discovering if fundamental physical constants change over time."
He added that there are practical uses in Earth science and geophysics: "For instance, this technology could improve satellite-based studies of how the water table changes over time, or to look for ore deposits underground."
Additionally, he emphasized the great increase in the amount and security of data that could now be transferred between the Earth and satellites: "Our technology could help us increase the data rate from satellites to ground by orders of magnitude. The next generation of big data-gathering satellites would be able to get critical information to the ground faster."
This research was originally developed to synchronize incoming signals for the Square Kilometre Array Telescope which is set to be constructed in Western Australia and South Africa.
Internet Links to Additional Information ---
International Centre for Radio Astronomy Research (ICRAR): Link >>> https://en.wikipedia.org/wiki/International_Centre_for_Radio_Astronomy_Research
University of Western Australia (UWA): Link >>> https://en.wikipedia.org/wiki/University_of_Western_Australia

Square Kilometre Array Telescope: Link >>> https://en.wikipedia.org/wiki/Square_Kilometre_Array

Related Blog Posts ---
"100 Years Ago: U.S. Scientist Questions Evidence Proving General Theory of Relativity." Wed., 2019 Nov. 13.
"Book: "Einstein for Anyone: A Quick Read"" Thur., 2016 Dec. 15.


"Centennial: Einstein's General Theory of Relativity." Wed., 2015 Nov. 25.


Source: Glenn A. Walsh Reporting for SpaceWatchtower, a project of Friends of the Zeiss.

Wednesday, 2021 January 27.

Like This Post? Please Share!

More Astronomy & Science News - SpaceWatchtower Twitter Feed:
Link >>> https://twitter.com/spacewatchtower

Astronomy & Science Links: Link >>> http://buhlplanetarium.tripod.com/#sciencelinks

Want to receive SpaceWatchtower blog posts in your in-box ?
Send request to < spacewatchtower@planetarium.cc >.

gaw
Glenn A. Walsh, Informal Science Educator & Communicator:
Link >>> http://buhlplanetarium2.tripod.com/weblog/spacewatchtower/gaw/
Electronic Mail: < gawalsh@planetarium.cc >
Project Director, Friends of the Zeiss: Link >>> http://buhlplanetarium.tripod.com/fotz/
SpaceWatchtower Editor / Author: Link >>> http://spacewatchtower.blogspot.com/
Formerly Astronomical Observatory Coordinator & Planetarium Lecturer, original Buhl Planetarium & Institute of Popular Science (a.k.a. Buhl Science Center), Pittsburgh's science & technology museum from 1939 to 1991.
Formerly Trustee, Andrew Carnegie Free Library and Music Hall, Pittsburgh suburb of Carnegie, Pennsylvania.
Author of History Web Sites on the Internet --
* Buhl Planetarium, Pittsburgh: Link >>> http://www.planetarium.cc Buhl Observatory: Link >>> http://spacewatchtower.blogspot.com/2016/11/75th-anniversary-americas-5th-public.html
* Adler Planetarium, Chicago: Link >>> http://adlerplanetarium.tripod.com
* Astronomer, Educator, Optician John A. Brashear: Link >>> http://johnbrashear.tripod.com
* Andrew Carnegie & Carnegie Libraries: Link >>> http://www.andrewcarnegie.cc