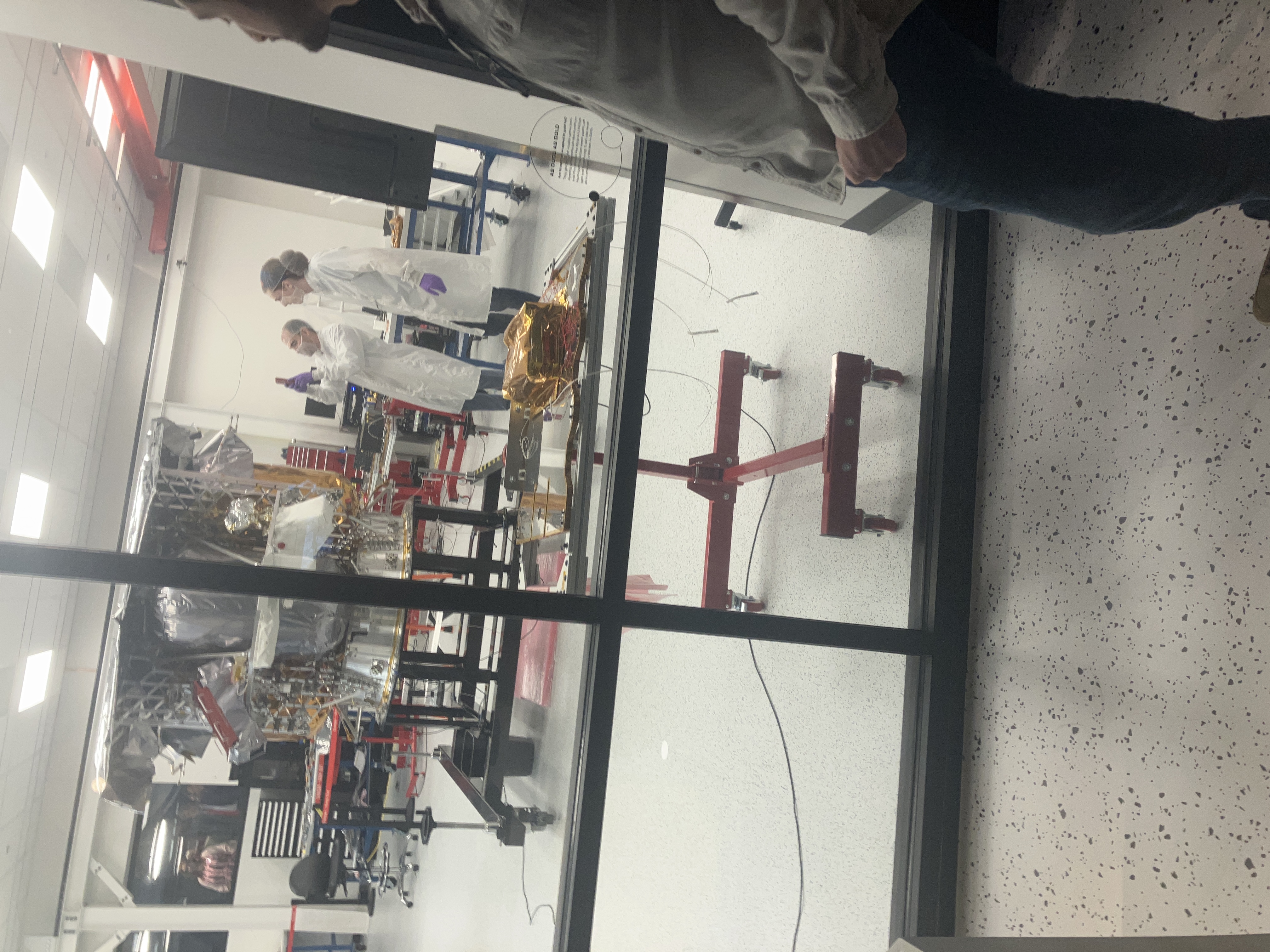 Observation windows looking into the Astrobotic Clean Room, from the Moonshot Space Museum, located on Pittsburgh's Lower North Side. In this photograph, two Astrobotic technicians are working on the Peregrine Moon Lander, scheduled to be launched to the Moon Christmas Eve. This photograph was taken on the day of dedication of the Moonshot Space Museum: Saturday, 2022 October 15.
(Image Source: SpaceWatchtower Blog, Friends of the Zeiss; Photographer: Glenn A. Walsh)
By Glenn A. Walsh
Reporting for SpaceWatchtower
America's return to the Moon, with a robotic lander and rover, is planned for launch Christmas Eve of this year. This NASA Commercial Lunar Payload Services (CLPS) project, the Peregrine Lander carrying 21 payloads, was built by Astrobotic Technology, Inc. of Pittsburgh and the Iris Rover was produced by Carnegie Mellon University.
Over the years, the United States has had several fly-by and orbital missions to the Moon, since the last Apollo mission, Apollo 17, left the Moon on 1972 December 14. However, Peregrine Mission One will be the first American lander and rover since the days of Apollo.
Peregrine Mission One will be launched atop a United Launch Alliance (ULA) Vulcan Centaur rocket from the Cape Canaveral Space Force Station in Florida [Space Launch Complex 41 (SLC-41)]. This is the first flight of this particular rocket, a successor to ULA's Atlas V and Delta IV launch vehicles. Getting such a new rocket ready for launch, and passing NASA requirements, meant that the original May launch date slipped until December.
Launch of the Peregrine mission is scheduled for early on the morning of Christmas Eve: 1:50 a.m. Eastern Standard Time (EST) / 6:50 Coordinated Universal Time (UTC), Sunday Morning, 2023 December 24. It was also on Christmas Eve, this time in 1968, when humans first entered orbit around another planetary body, the Earth's Moon, during the historic mission of Apollo 8.
The Peregrine Mission One launch window continues during December 25 and 26, if a launch cannot occur on Christmas Eve. Provided the launch does occur one of these three days, landing on the Moon is expected a month later: Thursday, 2024 January 25.
Internet Link to Live-Stream Web-Cast of Astrobotic Launch Near End of Blog-Post.
About an hour or so after launch, the Peregrine Lander and Iris Rover will separate from the launch vehicle and enter a Trans-lunar Injection for the beginning of the trip to the Moon. After entering a medium orbit around the Moon, landing the spacecraft will wait until early morning at the landing site: Sinus Viscositatis ('Bay of Stickiness') located at 35.25 degrees North and 40.99 degrees west on the Moon.
By landing early in the morning on the Moon, this will give the mission eight-to-ten days of operation while the Sun is shining. Once nightfall descends on the spacecraft, operations will stop and wait for the next sunrise. However, Astrobotic Founder and Chief Executive Officer John Thornton warns that with the cold of a lunar night, it is not known how that may affect the equipment; he said that India's Chandrayaan-3 Lander did not resume operation after lunar night. According to Mr. Thornton, the Moon's surface temperature varies from about +212 to +248 degrees Fahrenheit / +100 to +120 degrees Celsius in the daytime "down to liquid nitrogen cold" at night; a lot of things can break at such low nighttime temperatures.
Another NASA CLPS mission, the launch of Intuitive Machines Nova-C Lander (IM-1 Mission), was also delayed and is now scheduled to launch after the Peregrine Lander. But if the IM-1 Mission schedule holds, it may actually land on the Moon slightly before the Peregrine Lander.
The Iris Rover is a collaboration between the students, professors, and staff from Carnegie Mellon University and Astrobotic in the development of robotics technology for Outer Space. The rover name Iris is Siri spelled backwards, in honor of Carnegie Mellon University Lead Systems Engineer Siri Maley. The Iris robotic mission will be the smallest, first American, first university-built, and first student-built rover on the Earth's Moon.
Carnegie Mellon is also providing another payload called MoonArk, which Astrobotic describes as a "collaborative space project". This sort-of space museum "embodies the arts, humanities, sciences, and technologies in a set of intricately designed objects intended to spark wonderment and discovery for future generations."
Among the 21 payloads on this mission are instruments from NASA research centers: Ames Research Center (Moffett Federal Airfield, Silicon Valley, California), Goddard Space Flight Center (Greenbelt, Maryland), and Johnson Space Center (Houston, Texas) ---
Laser Retroreflector Array (LRA) – GSFC

Linear Energy Transfer Spectrometer (LETS) – JSC

Near InfraRed Volatiles Spectrometer System (NIRVSS) – ARC

Neutron Spectrometer System (NSS) – ARC

Peregrine Ion-Trap Mass Spectrometer (PITMS) – GSFC/European Space Agency
Other payloads include a M-42 Radiation Detector from the German Aerospace Center, as well as scientific payloads from the United Kingdom, Mexico, and Hungary. An American space company, Elysium Space, is sending the remains of people's loved ones on the spacecraft. And, scientists from the Seychelles are sending one Bit-coin.
Japan's Lunar Dream Capsule, from the company Astroscale, is described as a "time capsule". The time capsule includes messages from 80,000 children from around the world.
A commercial spin-off from Carnegie Mellon University, Astrobotic opened a Moonshot Space Museum on Pittsburgh's Lower North Side on Saturday Morning, 2022 October 15. This new museum is located adjacent to Astrobotic's manufacturing facility. In addition to STEM (Science, Technology, Engineering, and Mathematics) education for young people, this museum allows the general public to watch Moon rovers being constructed.
Carnegie Mellon University originated in 1900 as the Carnegie Technical Schools. It was established to provide for a technical education by famous industrialist and philanthropist Andrew Carnegie.
Internet Link to Live-Stream Web-Cast of Astrobotic Launch ---
Link >>> https://www.nasa.gov/nasatv/
Internet Links to Additional Information ---
Peregrine Mission One ---
Link 1 >>> https://www.nasa.gov/missions/artemis/clps/astrobotic-peregrine-mission-one/
Link 2 >>> https://en.wikipedia.org/wiki/Peregrine_Mission_One
Astrobotic Technology ---
Astrobotic: Link >>> https://www.astrobotic.com/
Peregine Mission One Update: Link >>> https://www.astrobotic.com/peregrine-mission-one-update/
Peregine Mission One Manifest: Link >>> https://www.astrobotic.com/lunar-delivery/manifest/
Carnegie Mellon Iris & MoonArk:
Link >>> https://www.cmu.edu/news/stories/archives/2023/october/cmus-iris-moonark-leave-pittsburgh-en-route-to-the-moon
Related Blog-Posts ---
"Moonshot Space Museum Opens in Pittsburgh." Thur., 2022 Oct. 20.
Moonshot Space Museum sponsored by Astrobotic Technology.
"CMU to Build 1st Univ.-Based Space Mission Control." Mon., 2022 April 18.
"American Lunar Society Founder on 50th Anniversary: 1st Humans Orbit Moon."
Mon., 2018 Dec. 24.
"Library to be Established on the Moon !" Mon., 2018 May 2.
Source: Glenn A. Walsh Reporting for SpaceWatchtower, a project of Friends of the Zeiss
Thursday, 2023 December 7.

Like This Post? Please Share!

More Astronomy & Science News - SpaceWatchtower Twitter Feed:
Link >>> https://twitter.com/spacewatchtower

Astronomy & Science Links: Link >>> http://buhlplanetarium.tripod.com/#sciencelinks

Want to receive SpaceWatchtower blog posts in your in-box ?
Send request to < spacewatchtower@planetarium.cc >.

gaw
Glenn A. Walsh, Informal Science Educator & Communicator (For more than 50 years! - Since Monday Morning, 1972 June 12):
Link >>> http://buhlplanetarium2.tripod.com/weblog/spacewatchtower/gaw/
Electronic Mail: < gawalsh@planetarium.cc >
Project Director, Friends of the Zeiss: Link >>> http://buhlplanetarium.tripod.com/fotz/
SpaceWatchtower Editor / Author: Link >>> http://spacewatchtower.blogspot.com/
Formerly Astronomical Observatory Coordinator & Planetarium Lecturer, original Buhl Planetarium & Institute of Popular Science (a.k.a. Buhl Science Center), America's fifth major planetarium and Pittsburgh's science & technology museum from 1939 to 1991.
Formerly Trustee, Andrew Carnegie Free Library and Music Hall, Pittsburgh suburb of Carnegie, Pennsylvania, the fourth of only five libraries where both construction and endowment funded by famous industrialist & philanthropist Andrew Carnegie.
Author of History Web Sites on the Internet --
* Buhl Planetarium, Pittsburgh: Link >>> http://www.planetarium.cc Buhl Observatory: Link >>> http://spacewatchtower.blogspot.com/2016/11/75th-anniversary-americas-5th-public.html
* Adler Planetarium, Chicago: Link >>> http://adlerplanetarium.tripod.com
* Astronomer, Educator, Optician John A. Brashear: Link >>> http://johnbrashear.tripod.com
* Andrew Carnegie & Carnegie Libraries: Link >>> http://www.andrewcarnegie.cc
* Other Walsh-Authored Blog & Web-Sites: Link >>> https://buhlplanetarium.tripod.com/gawweb.html