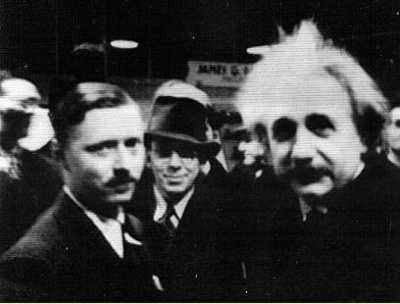 Amateur Astronomers Association of Pittsburgh (AAAP) Co-Founder
Leo J. Scanlon (left), who would later become one of the first Buhl
Planetarium lecturers, thanks Albert Einstein (right) for visiting the
AAAP booth at the 1934 convention of the American Association for
the Advancement of Science at Mellon Institute in Pittsburgh.
More Information: Link >>> http://old.3ap.org/features/leo/leoScanlonBio6.shtml
(Sources: AAAP, Scanlon Family Collection; Photo Reproduction: © Copyright David Smith)
By Glenn A. Walsh
Reporting for SpaceWatchtower
Need a last-minute stocking-stuffer for the Science-minded relative or friend?
David R. Topper, Senior Scholar of the History of Science at the University of Winnipeg, has just introduced the second revised edition of his biography of Albert Einstein, titled, Einstein for Anyone: A Quick Read. Dr. Topper has expanded this paperback edition, and he says it is 35 per cent longer than the original book published exactly a year ago (and, he says, this edition is 40 per cent less expensive than the original book! - Internet link to the publisher's web site, regarding the book, at the end of this blog-post).
According to the promotional Internet web page for the book, "Here is the compact story of this famous man, from the smiling contrarian in his grade school picture to the nonconformist adult who refused to groom his hair."
The book examines the life of Albert Einstein in three general sections. First is his personal life, including his parents, his two wives, and his children. Next, Dr. Topper examines his struggles as a young Jew, including fleeing Nazi Germany for America, and his devotion to social justice. Finally, he is examined as a scientist, including radical ideas that brought forth a new cosmic model of the universe.
Dr. Topper, who recently (2012 June) retired, was Professor of History at the University of Winnipeg from 1970 to 2012. The Pittsburgh native taught courses in the history of both Science and Art.
He was the recipient of two teaching awards: the Robson Memorial Award for Excellence in Teaching at the University of Winnipeg (1981), and the National 3M Teaching Fellowship (1987). For the journal Leonardo, he has been International Co-Editor (since 1982) and Honorary Editor (since 2005).
Three other books he has published include:
Quirky Sides of Scientists: True Tales of Ingenuity and Error from Physics and Astronomy (Springer, 2007)

How Einstein Created Relativity from Physics and Astronomy (Springer, 2013)

Idolatry and Infinity: Of Art, Math, and God (Brown Walker, 2014)
David Topper, who grew up in Pittsburgh in the 1940s and 1950s, credits Pittsburgh's original Buhl Planetarium and Institute of Popular Science for his interest in Science. He says, "I have very fond memories of the Buhl Planetarium...It stimulated my interest in science and especially astronomy, which has not abated over the years."


Publisher's Internet Web Site - Vernon Press - For the book Einstein for Anyone: A Quick Read:
Link >>> https://vernonpress.com/title?id=228#.WFIrQX21Pdg
Internet Links to Additional Information ---
Regarding David Topper's 2010 Lecture at Carnegie Mellon University in Pittsburgh, about Albert Einstein's visit to the 1934 convention of the American Association for the Advancement of Science at Mellon Institute in Pittsburgh:
Link >>> http://buhlplanetarium.tripod.com/archivenews/releases/einsteinpgh.html
David Topper's Remembrance of Pittsburgh's original Buhl Planetarium and Institute of Popular Science:
Link >>> http://buhlplanetarium4.tripod.com/friendsofthezeiss/HRCnom/support/BuhlDT.htm
Leo J. Scanlon, inventor of the 1st all-aluminum astronomical observatory dome in 1930:
Link >>> http://buhlplanetarium2.tripod.com/bio/ScanlonL.htm
Related Blog Posts ---
"Advanced Interplanetary Laser Altimeter to Map Surface of Mercury." 2016 October 7. (The interest in the Planet Mercury, by the University of Bern, is inspired by Albert Einstein, who was appointed as a Professor of Theoretical Physics at the University in 1909.)
"Centennial: Einstein's General Theory of Relativity." 2015 Nov. 25.
"Einstein's Gravity Theory Passes Toughest Test Yet." 2013 April 27.
"Einstein Right Again: Dead Star Warps Light." 2013 April 6.
"Pics of Einstein's Brain; Tycho Brahe Not Poisoned." 2012 Nov. 16.
Source: Glenn A. Walsh Reporting for
SpaceWatchtower, a project of Friends of the Zeiss
.
2016 December 15.
2016: 75th Year of Pittsburgh's Buhl Planetarium Observatory
Link >>> http://spacewatchtower.blogspot.com/2016/11/75th-anniversary-americas-5th-public.html
Like This Post? - Please Share!
More Astronomy & Science News - SpaceWatchtower Twitter Feed:
Link >>> https://twitter.com/spacewatchtower
Astronomy & Science Links: Link >>> http://buhlplanetarium.tripod.com/#sciencelinks
Want to receive
SpaceWatchtower
blog posts in your inbox ?
Send request to <
spacewatchtower@planetarium.cc
>.
gaw
Glenn A. Walsh, Project Director, Friends of the Zeiss: <
http://buhlplanetarium.tripod.com/fotz/
>
& SpaceWatchtower Editor / Author: <
http://buhlplanetarium2.tripod.com/weblog/spacewatchtower/gaw/
>
Electronic Mail - <
gawalsh@planetarium.cc
>
Astronomy Links: <
http://buhlplanetarium.tripod.com/#astrolinks
>
Science Links: <
http://buhlplanetarium.tripod.com/#sciencelinks
>
SpaceWatchtower Twitter News Feed: <
https://twitter.com/spacewatchtower
>
SpaceWatchtower Blog: <
http://spacewatchtower.blogspot.com/
>
LibraryWatchtower Blog: <
http://librarywatchtower.blogspot.com
>
South Hills Backyard Astronomers Blog: <
http://shbastronomers.blogspot.com/
>
Barnestormin Blog: Writing, Essays, Pgh. News, etc.: <
http://www.barnestormin.blogspot.com/
>
Author of History Web Sites on the Internet --
* Buhl Planetarium, Pittsburgh:
<
http://www.planetarium.cc
>
* Adler Planetarium, Chicago:
<
http://adlerplanetarium.tripod.com
>
* Astronomer, Educator, Optician John A. Brashear:
<
http://johnbrashear.tripod.com
>
* Andrew Carnegie & Carnegie Libraries:
<
http://www.andrewcarnegie.cc
>
* Civil War Museum of Andrew Carnegie Free Library:
<
http://garespypost.tripod.com
>
*
Duquesne Incline
cable-car railway, Pittsburgh:
<
http://inclinedplane.tripod.com
>
* Public Transit:
<
http://andrewcarnegie2.tripod.com/transit
>