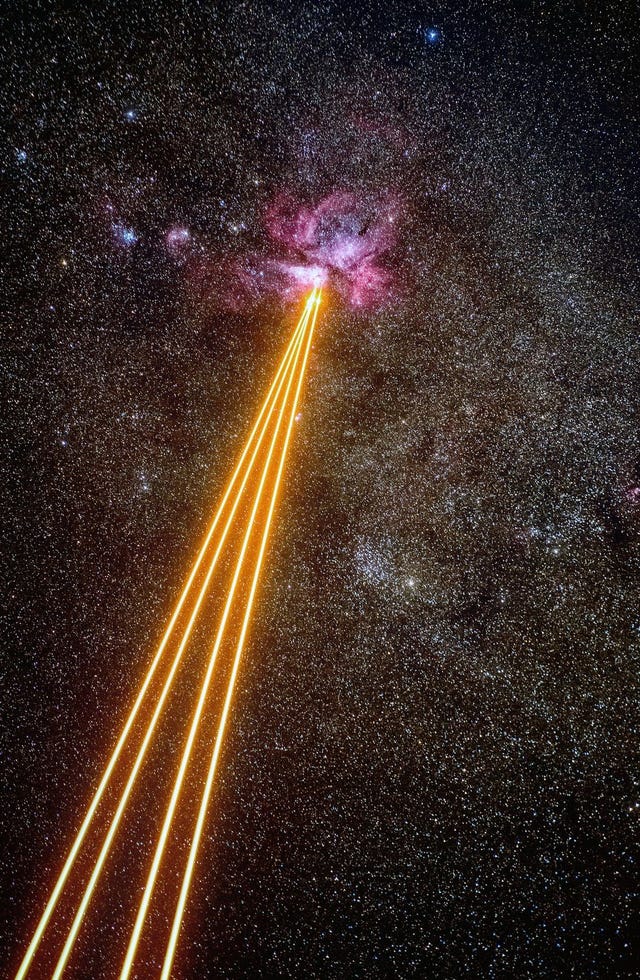 Image issued by the European Southern Observatory, which graphically illustrates the use of lasers to provide a clearer image of the Carina Nebula, one of the brightest nebulae in the night sky.
(Image Source: European Southern Observatory: Gerhard Hudepohl)
By Glenn A. Walsh
Reporting for SpaceWatchtower
Powerful lasers are helping the Very Large Telescope Array (VLT) at the European Southern Observatory (ESO) in Chile provide crisper images of the night sky. The lasers aid computers in mitigating normal distortion of Earth's atmosphere.
Located in the Atacama Desert in northern Chile, the VLT is one of the world's most advanced telescopes. It consists of four Unit Telescopes, each with 27-foot / 8.2-meter mirrors, which can change configuration to adapt to turbulence in the Earth's atmosphere.
Atmospheric turbulence has always been a major problem of ground-based telescopes. This turbulence, which causes stars to twinkle, often blurs observations of far away stars, nebulae, and galaxies.
Lasers now aid in the resolution of this turbulence problem. High-tech adaptive optics, attached to the VLT, point and fire powerful lasers toward a target area of the sky astronomers wish to observe. Although a small amount of this laser light may some day reach the star, nebula, or galaxy being observed (at the speed of light, for most celestial objects this would take quite a long time), the laser is not meant to go further than our atmosphere.
Sodium particles in Earth's upper atmosphere are excited by the laser beams. These sodium particles then glow as artificial "stars."
The glowing particles are then used as reference "stars" by VLT computers, to measure the distortion of that particular part of Earth's atmosphere. The computers can then adapt telescope optics to receive telescopic images almost as clear as images from a space telescope.
This laser technology has allowed the VLT to claim several astronomical firsts ---
> First image of a planet outside of our Solar System.
> First to track individual stars around the super-massive black hole at the center of our Milky Way Galaxy.
> First to observe the dim glow of the farthest known Gamma Ray Burst.
Internet Links to Additional Information ---
Very Large Telescope (VLT): Link >>> https://en.wikipedia.org/wiki/Very_Large_Telescope
European Southern Observatory (ESO): Link >>> https://en.wikipedia.org/wiki/European_Southern_Observatory
Turbulence: Link >>> https://en.wikipedia.org/wiki/Turbulence

Laser: Link >>> https://en.wikipedia.org/wiki/Laser

Source: Glenn A. Walsh Reporting for SpaceWatchtower, a project of Friends of the Zeiss.

Mon
day, 2020 December 7.
Like This Post? Please Share!
More Astronomy & Science News - SpaceWatchtower Twitter Feed:
Link >>> https://twitter.com/spacewatchtower

Astronomy & Science Links: Link >>> http://buhlplanetarium.tripod.com/#sciencelinks
Want to receive
SpaceWatchtower
blog posts in your in-box ?
Send request to <
spacewatchtower@planetarium.cc
>.
gaw
Glenn A. Walsh, Informal Science Educator & Communicator:
Link >>> http://buhlplanetarium2.tripod.com/weblog/spacewatchtower/gaw/
Electronic Mail: < gawalsh@planetarium.cc >
Project Director, Friends of the Zeiss: Link >>> http://buhlplanetarium.tripod.com/fotz/
SpaceWatchtower Editor / Author: Link >>> http://spacewatchtower.blogspot.com/
Formerly Astronomical Observatory Coordinator & Planetarium Lecturer, original Buhl Planetarium & Institute of Popular Science (a.k.a. Buhl Science Center), Pittsburgh's science & technology museum from 1939 to 1991.
Formerly Trustee, Andrew Carnegie Free Library and Music Hall, Pittsburgh suburb of Carnegie, Pennsylvania.
Author of History Web Sites on the Internet --
* Buhl Planetarium, Pittsburgh: Link >>> http://www.planetarium.cc Buhl Observatory: Link >>> http://spacewatchtower.blogspot.com/2016/11/75th-anniversary-americas-5th-public.html
* Adler Planetarium, Chicago: Link >>> http://adlerplanetarium.tripod.com
* Astronomer, Educator, Optician John A. Brashear: Link >>> http://johnbrashear.tripod.com
* Andrew Carnegie & Carnegie Libraries: Link >>> http://www.andrewcarnegie.cc